Replacement Easy-latch nipple pack of 2
WITH FLOW-CONTROL®
& ANTI-DRIP TECHNOLOGY.
Reviews
❤❤❤❤❤ Bare Airfree stops spit-ups in this cutie suffering from reflux. "Works amazing. I used this bottle years ago for my little guy who suffered bad acid reflux to the point he was losing weight from spitting up too much but this bottle was easy to use and worked wonders. He stopped spitting up after…
Bare® Air-free vs. baby bottles
Most breast-like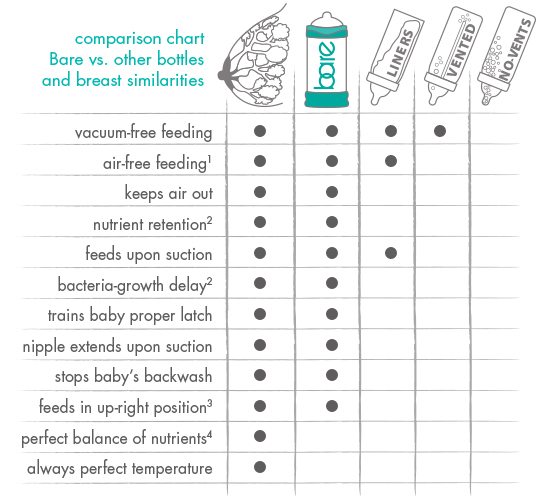 This comparison is based on published articles, factual statements, and user testing.
1 Bare®, as well as bottles with liners, allow the user to expel air. It is known that air-swallowing may cause gas/colic in babies. The less air ingestion the less gas in babies.
2 Nutrients are lost when milk is mixed with oxygen in the air, Bare® allows the user to expel the air and maintain an air-tight container to inhibit bacteria growth, due to the lack of oxygen, resulting in longer nutrient retention than baby bottles that allow air. A baby bottle with collapsible liners allows the user to expel air but doesn't maintain an air-free environment, air goes back in almost immediately as gravity pulls liquid down.
3 Because Bare® works with suction as opposed to gravity, the baby is able to start feeding as soon as he/she can bring the bottle to his/her mouth. Other bottles require the baby to turn the bottle upside down which can delay the self-feeding milestone.
4 Breastfeeding directly is proven to have invaluable benefits for mom and baby rather than bottle-feeding breast milk to learn more about the advantages of breastfeeding go to https://aappolicy.aappublications.org/cgi/content/full/pediatrics;115/2/496
Description
Bare® Air-free is for babies 0-18 months with severe gas, spit-up, daytime fuss, midnight colic, GER, GERS & diagnosed GERD.
Forget nipple stages:
Thanks to the patented Flow-Control® Technology, babies can control the flow with suction, just like they do at the breast. Four different size orifices will open and close to dispense more or less flow accordingly, as baby suction varies from feeding to feeding and within the same feeding. NOTE: Always hold Bare® right side up while feeding
When to use
If your baby is strictly bottle-fed
If your baby is overfeeding with traditional baby bottles
If you think your baby is having trouble adapting to awkward nipple stages from other bottles
Use Bare® Easy-latch® nipple with Bare® Air-free systems only
Do not use nipples as pacifiers
Inspect nipple prior to every use. If you see any signs of tearing, cracking, or change in shape, discontinue use and replace immediately. See more
Easy-latch® Nipple design is the easiest to latch on
Specially designed for bottle-fed babies who suffer gas & colic
Flow-Control® technology: different size orifices on the tip allow baby to control feeding pace and flow with suction strength
Anti-drip technology
Air-plug® & Easy-latch® nipple work in synergy to promote suckling motion. See more
No more nipple stages
The Easy-latch® nipple is the easiest to latch on for bottle-fed babies. Together with Air-plug® technology that works similar to a syringe and without the use of air-vents, Bare dispenses air-free contents upon suction only. So the baby controls the flow and pace of feeding.
Nipple stages are soooo last century!
Instructional video
If you are using the Perfe-latch® nipple
Use as intended
Always feed your baby in a vertical-upright position (be sure the chin doesn't touch the chest.) Follow step-by-step instructions.
Bare® Air-free is designed to feed while held right side up. DO NOT tip upside down nor hold horizontally. Let the baby create the suction to feed while in an upright position and against gravity.
The Perfe-latch® nipple extends upon suction to emulate the mechanics of breastfeeding to minimize nipple confusion. The Easy-latch® nipple is the easiest to latch on for bottle-fed babies. Both nipples offer Flow-Control® technology so babies control the flow and pace of feeding.
Additional information
| | |
| --- | --- |
| Weight | 0.4 lbs |
| Dimensions | 2.85 × 1.75 × 6.5 in |
| This product contains | (2) Easy-latch nipples |
| Care | Dishwasher-safe – top rack ONLY |
| Important | Please take a minute to watch the instructional video and browse thru our detailed usage & care section. bittylab.com/usage |
| Material | Free of: BPA, Lead, PVC, Phthalates and Nitrosamines. FDA approved, Tear & bite resistant. 100% silicone. Dishwasher-safe. |
| SKU | 857735004144 |