Perfe-latch® Nipple
supports & promotes breastfeeding
The Perfe-latch® nipple features a short teat to stimulate the baby to latch on the areola part of the nipple
The teat extends upon suction to help prevent nipple confusion
Flow-Control® technology: different size orifices on the tip allow baby to control feeding pace and flow with suction strength
Air-plug® & Perfe-latch® nipple work in synergy to mimic the breasts' flow resistance & suckling motion
Proven to extend the breastfeeding relationship when supplementing
---
Breastfeed for as long as you can, we're here to help.
From the way our nipples extend inside the baby's mouth to the way air-free milk is dispensed only upon suction and natural flow that's controlled by the baby's suction strength, Bare® with Perfe-latch® nipple, is designed to mimic a mother's breast.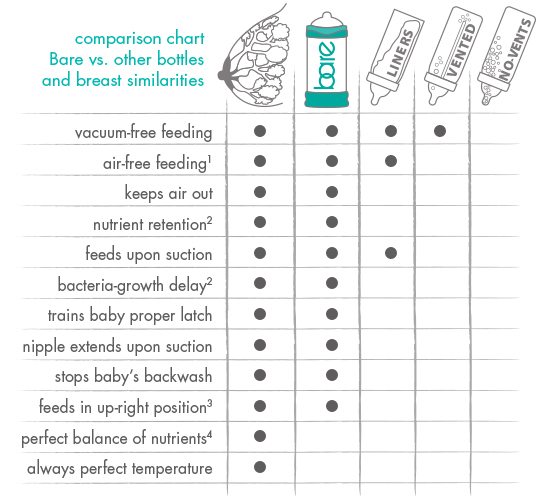 This comparison is based on published articles, factual statements, and user testing.
1 Bare®, as well as bottles with liners, allow the user to expel air. It is known that air-swallowing may cause gas/colic in babies. The less air ingestion the less gas in babies.
2 Nutrients are lost when milk is mixed with oxygen in the air, Bare® allows the user to expel the air and maintain an air-tight container to inhibit bacteria growth, due to the lack of oxygen, resulting in longer nutrient retention than baby bottles that allow air. A baby bottle with collapsible liners allows the user to expel air but doesn't maintain an air-free environment, air goes back in almost immediately as gravity pulls liquid down.
3 Because Bare® works with suction as opposed to gravity, the baby is able to start feeding as soon as he/she can bring the bottle to his/her mouth. Other bottles require the baby to turn the bottle upside down which can delay the self-feeding milestone.
4 Breastfeeding directly is proven to have invaluable benefits for mom and baby rather than bottle-feeding breast milk to learn more about the advantages of breastfeeding go to https://aappolicy.aappublications.org/cgi/content/full/pediatrics;115/2/496
---
Everybody knows that if you are using Bare® with Perfe-latch® nipple, you must be a breastfeeding mama!
Parental report indicate Bare® Air-free helps initiate, reinstate and extend breastfeeding while supplementing. Between the deep/wide latch needed to latch on the Perfe-latch® nipple, the suction that babies need to create in order to feed with Bare® and the Pace/flow-control® technology offered by Bare, babies learn to latch on the breast even after weeks of never been able to breastfeed. Breastmilk is the best food for your newborn and breastfeeding is best for the mom and babies. Utilizing breastfeeding support and the right feeding system can help you initiate, reinstate and extend the breastfeeding relationship while supplementing.
Deep, wide latch
+ air-free feeding
+ flow control technology
---
helps initiate, reinstate & extend breastfeeding while supplementing.
---
Breastfeeding support
Breastfeeding support resources:
Why do you need breastfeeding Support
Breastfeeding is a natural, instinctual way to feed our infants. However, there are several reasons why mothers may need help. To name a few:
Some mothers may have a low milk supply in the beginning;
The baby may need to stay in the NICU for observation and given baby bottles which in turn disrupts the breastfeeding relationship;
Your baby cannot latch on the breast right the way;
Simply, the baby is feeding but doesn't gain weight, etc.
Most of the available breastfeeding support is covered by your health insurance and Medicaid.