Your breasts don't have air-vents, why should baby bottles?
Perfe-latch® Nipple
supports & promotes breastfeeding
The Perfe-latch® nipple features a short teat to stimulate baby to latch on the areola part of the nipple
The teat extends upon suction to help prevent nipple confusion
Flow-Control® technology: different size orifices on the tip allow baby to control feeding pace and flow with suction strength
Air-plug® & Perfe-latch® nipple work in synergy to mimic the breasts' flow resistance & suckling motion
Proven to extend the breastfeeding relationship when supplementing
Breastfeed for as long as you can,
we're here to help.
Flow-Control® Technology
Different size orifices on its tip, dispense different flow rates controlled by the baby's sucking strength:
With weaker suction (i.e. a newborn's) only the larger orifice dispenses (the large orifice is about the orifice of a standard newborn nipple)
With stronger suction (i.e. a 10 month old baby) all the other smaller orifices dispense (like the mom's nipple)
Our Flow-Control® Technology gives the baby full control over the pace and flow of which s/he feeds to prevent overfeeding and/or developing preference for the bottle.
Like nature intended
Get closer, Go Bare®

From the way our nipples extend inside the baby's mouth to the way air-free milk is dispensed only upon suction and natural flow that's controlled by the baby's suction strength, Bare® with Perfe-latch® nipple, is designed to mimic a mother's breast.
Bare®; technology beyond the nipple
Bare® is most breast-like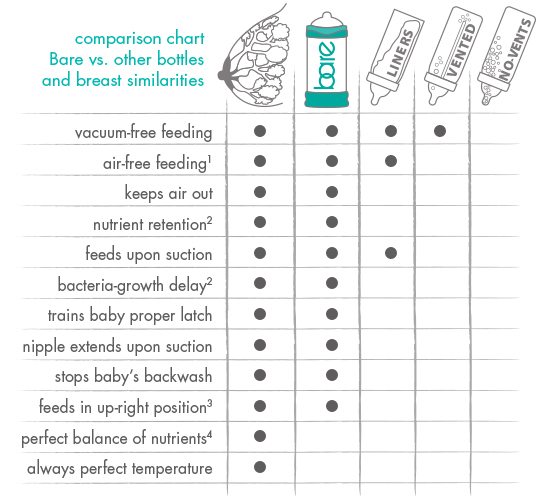 This comparison is based on published articles, factual statements and user testing.
1 Bare®, as well as bottles with liners, allow user to expel air. It is known that air-swallowing may cause gas / colic in babies. The less air ingestion the less gas in babies.
2 Nutrients are lost when milk is mixed with oxygen in the air, Bare® allows the user to expel the air and maintain an air-tight container to inhibit bacteria growth, due to the lack of oxygen, resulting in longer nutrient retention than baby bottles that allow air. A baby bottle with collapsible liners allows user to expel air but doesn't maintain an air-free environment, air goes back in almost immediately as gravity pulls liquid down.
3 Because Bare® works with suction as opposed to gravity, baby is able to start feeding as soon as he/she can bring the bottle to his/her mouth. Other bottles require baby to turn the bottle upside down which can delay the self-feeding milestone.
4 Breastfeeding directly is proven to have invaluable benefits for mom and baby rather than bottle-feeding breast milk to learn more about the advantages of breastfeeding go to https://aappolicy.aappublications.org/cgi/content/full/pediatrics;115/2/496